Odoo
Odoo Nedir?
Odoo is a fully integrated, customizable, open-source software packed with expertly designed, user-friendly business applications. Odoo's intuitive database is able to meet a majority of business
Daha çok oku
needs, such as CRM, Sales, Project, Manufacturing, Inventory, and Accounting, just to name a few. Odoo is an all-in-one software solution designed to meet the needs of any company, regardless of size (or budget).
Daha az oku
Kimler Odoo Kullanıyor?
Odoo open source software exists to help everyone, from people who just need a blog to big companies that need a full ERP. The software is flexible and can be adapted to SMEs or large corporations.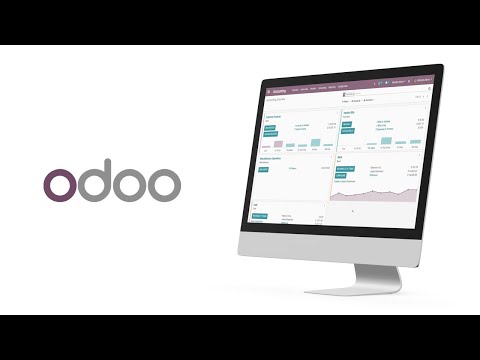 Odoo uygulaması konusunda emin olamadınız mı? Popüler bir alternatifle karşılaştırın
Ücretsiz sürüm
Ücretsiz deneme
Ücretsiz sürüm
Ücretsiz deneme
Odoo İçin En İyi Alternatifler
Nabin
Nepal dahilindeki CEO
Doğrulanmış LinkedIn Kullanıcısı
Bilgisayar Yazılımı, 51-200 Çalışan
Yazılımın kullanım amacı: 2+ yıl
Dikkate Alınan Alternatifler:
Complete set of business management software
Yorumlar: Odoo has helped us to automate our business process securely while leveraging more revenue.
Artılar:
The best part about Odoo is its open-source software which you can download and run on your private server, which makes it more secure and reliable. Odoo comes with integrated apps for CRM, eCommerce, accounting, PoS, and project management. The software is easy to implement with detailed documentation and active community support.
Eksileri:
The software is written in high-level open-source interpreted Python language. If the software was written in JAVA it would have been even better.
Aninda
Bangladeş dahilindeki Chief Solution Architect
Bilgi Teknolojileri ve Hizmetleri, 501-1.000 Çalışan
Yazılımın kullanım amacı: 2+ yıl
Dikkate Alınan Alternatifler:
Awesome ERP Experience!
Artılar:
It has all the modules/features integrated to run a business
Eksileri:
Support shall be more responsive and cost friendly
Alberto
Meksika dahilindeki CEO
Eğlence, 11-50 Çalışan
Yazılımın kullanım amacı: 2+ yıl
Dikkate Alınan Alternatifler:
Odoo is great except for the consultants and their sales team
Yorumlar: I have to say that their sales teams have the only purpose of having the greater profit instead of find a solution for the Customer. Be careful with them. My wife bought 2 years of license and 50 hours of a consultant. After 3 hours the consultant said that the requirements of the project were not able in odoo. After 3 months they don't want to give our money back. It is sad to work with companies that have such little ethics.
Artılar:
The software is great. Every part of your business is going to be integrated in a web of information easy to access. Every payment is linked to the invoices and the invoices to the Sales Orders. The Inventory Management is easy to use and I think it is difficult to get something as good in the same price range.
Eksileri:
Their sales team just want to sell you more instead of listening to the customer requirements. I have been working with odoo for 4 years in my company. I made a presentation of some requirements that my wife's company needed to consider using odoo. The salesman said that every requirement was possible. Nevertheless, after we paid 50 hours of a consultant and 2 years of license the consultant said that the requirements were not possible. For me odoo is very difficult to rate. I had the great experience of my company in which the software worked well. Also, I have the experience of my wife's company that is a disaster. I think the problem is that the sales teams don't know the product and they are selling air. They should have a 5 hours package with a consultant to manage the feasibility of the project. My second experience with odoo was a complete scam and a lack of ethics from the company.
Doğrulanmış Yorumcu
Vietnam dahilindeki Business development executive
Doğrulanmış LinkedIn Kullanıcısı
Bilgi Teknolojileri ve Hizmetleri, 51-200 Çalışan
Yazılımın kullanım amacı: 2+ yıl
Odoo - a business-oriented program.
Yorumlar: Odoo has a lot of positive aspects. The first is that it is more akin to a business development platform than an ERP. It is quite simple to build business logic on top of the Odoo "application server." Having said that, many excellent modules have already been written. And several modules are linked together.
The CRM module is fantastic. It helps you to manage your leads and prospects in a Sales funnel. Commercial Contacts may be monitored, and calls and messages to leads can be tracked. The "sort by last message" option offers you a good idea of when you should contact that lead again. You may also specify a "next step" date for possibilities.
The website builder is also excellent. Very user-friendly, and you create your website using graphical building pieces. The website builder also works with emails, which I use to create marketing emails. They also look wonderful.
The accounting section is also fairly comprehensive. You may immediately associate financial information, such as bills, with your customer. Dunning may be automatically implemented using rulesets. Odoo has comprehensive accounting capability in addition to invoicing (double ledger).
The HR feature is also useful for tracking your employees' vacation days and other information. You may also keep and categorize CVs for future jobs.
Artılar:
Odoo ERP software offers a broad set of systems that serve each area of the firm, including accounting, project management, customer service, warehouse management, manufacturing supplies, and so on. Because the Odoo system is created in a modular structure, users may pick suitable apps from the app store and install them on the company's account. The Odoo system's hallmark is its over 10,000 support modules. Enterprises merely need to choose the relevant functionalities and eliminate the unneeded ones.
Eksileri:
Odoo installation and setup are difficult. To understand this Odoo, you must have programming abilities. This can be irritating for your company since dealing with the installation problem requires time, effort, and, most importantly, money from your employees.
Pablo
Meksika dahilindeki IT
Makine, 51-200 Çalışan
Yazılımın kullanım amacı: 1+ yıl
One Software to all company
Yorumlar: it is so easy to make changes in the interface with few hours of videos and information. so it became our MRP in less than 3 months, and in one year it handle almost 80% of all our procees.
Artılar:
with very little knowledge about the program, and a little reading and videos it is very easy to customize the interface, both online and in print.
Eksileri:
the databases are not relational as usually, so you need to know about python code and get all the information about you need, to make deeper personalization.