Regiondo Nedir?
Regiondo is Europe's leading booking software for the leisure industry. We help tour, activity & attraction providers to sell tickets online, manage bookings, connect with leading online travel agencies and grow their business faster.
Regiondo provides an all-in-one scalable digital infrastructure with a variety of tools for online payments, ticket scanning, sales reports, onsite bookings, channel management and marketing.
Kimler Regiondo Kullanıyor?
More than 7.000 partners from the travel industry already use the system successfully. Whether you offer an amusement park, a zoo or cooking classes, Regiondo is adaptable to your needs.
Regiondo nerede dağıtılabilir?
Bulut tabanlı
Şirket İçi
---
Satıcı hakkında
Regiondo
Munich, Almanya içinde yerleşiktir
2011 yılında kuruldu
Regiondo support
Telefon Desteği
7/24 (Canlı yardım)
Sohbet
Satıcı hakkında
Regiondo
Munich, Almanya içinde yerleşiktir
2011 yılında kuruldu
Regiondo support
Telefon Desteği
7/24 (Canlı yardım)
Sohbet
Regiondo videoları ve resimleri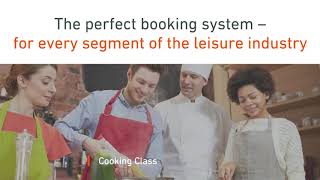 Regiondo ile benzer ürünleri karşılaştır
Regiondo ürününün özellikleri
API
CRM
Envanter Yönetimi
Etkinlik Biletleri
Etkinlik Panosu
Etkinlik Planlama
Etkinlik Rezervasyonu
Etkinlik Takvimi
Fiyatlandırma Yönetimi
Gerçek Zamanlı Güncellemeler
Grup Kaydı
Grup Rezervasyonları
Güzellik Salonları ve Spa'lar İçin
Katılımcı İzleme
Kaynak Yönetimi
Kayıt Yönetimi
Kişi Yönetimi
Merkezi Rezervasyon Sistemi
Mobil Erişim
Muhasebe Entegrasyonu
Müşteri Desteği
Müşteri Profilleri
Müşteri Veri Tabanı
Müşteri Yönetimi
Onay/Hatırlatıcılar
Otomatik Planlama
Paket Oluşturma
Pazarlama Otomasyonu
Promosyon Yönetimi
Randevu Planlama
Raporlama ve İstatistikler
Raporlama/Analiz
Rezervasyon Notları
Rezervasyon Yönetimi
Rozet Yönetimi
Satış Noktası (POS)
Seyahat Acenteleri İçin
Seyahat Programı Oluşturma
Sosyal Medya Entegrasyonu
Sosyal Promosyon
Takvim Eşitleme
Takvim Yönetimi
Takvim/Anımsatıcı Sistemi
Teklifler/Tahminler
Uyarılar/Bildirimler
Web Sitesi Yönetimi
Yerinde Kayıt
Yinelenen Randevular
Ziyaretçi Kaydı
Çevrimiçi Kayıt
Çevrimiçi Rezervasyon
Çevrimiçi Ödemeler
Çok Konumlu
Ödeme İşleme
Özelleştirilebilir Markalama
Özelleştirilebilir Raporlar
Üçüncü Taraf Entegrasyonlar
Regiondo İçin En İyi Alternatifler
Regiondo için incelemeler
Annette
Doğrulanmış LinkedIn Kullanıcısı
Yazılımın kullanım amacı: 6-12 ay
Kaynak: GetApp
Just perfect
Yorumlar: The service is perfect for our needs and we are very happy about the collaboration with Regiondo.
In fact we are "just" a small manufacturer for marmelade, mustard and BQQ-sauce, we wanted to show our (potential) customers, who we are, what we are doing and how we do it. So we were searching for a partner who provides us the best service and help us to promote our tour through our company.
We got some new customers who even did not know before that we do exist. They just found us by a search with Region, what they can do in the area we belong to.
We can highly recommend Regiondo.
Artılar:
The service is great. Regionda helps even small companies to get known in a wide area.
Eksileri:
We have no cons about Regiondo.
Regiondo Yanıtı
6 yıl önce
Thanks for the great review! We are always happy to hear that our customers are satisfied with our service.
Paolo
İtalya dahilindeki Amministratore
Spor, 2-10 Çalışan
Yazılımın kullanım amacı: 2+ yıl
Indispensabile
Artılar:
Sistema pensato per essere impiegato a veri livelli oltre la semplice prenotazione. Rappresenta un sistema di gestione delle informazioni interne , utilizzabile da molti collaboratori con differenti accessi e permessi, per informare i clienti sulle specifiche dell'attività in tempo reale. Uno strumento che soprattutto fornisce informazioni indispensabili per le analisi di digital marketing. La nostra strategia di acquisizione ruota intorno a questo strumento.
Eksileri:
Se utilizzato in maniera intensiva fa emergere bug di sistema che necessitano del tempo per essere risolti.
Mark
BK dahilindeki Director
Dinlence, Seyahat ve Turizm, 2-10 Çalışan
Yazılımın kullanım amacı: 1-5 ay
Dikkate Alınan Alternatifler:
Could not get it to work in £ and packages broke every day
Yorumlar: Moving to Regiondo was a disaster for us. The booking system did not work and we lost loads of bookings and eventually turned it off and went back to our previous supplier.
Artılar:
The booking system looked good and were were told it would support package deals e..g. two activities at a discount.
Eksileri:
The booking system could not do the most basic addition. If someone selected a £30 activity the total came out at £35.64. Regoindo spent weeks trying to make it work without success. Package deals were setup, but kept displaying that they were fully booked. We got it fixed then it broke again, day after day after day. Reports from Regiondo are in Excel in german format with a comma in place of a decimal point, so a UK version of Excel cannot make sense of it.
Regiondo Yanıtı
2 hafta önce
Hi Mark, We are very sorry to hear that you haven't had a positive experience with Regiondo. We appreciate that you took the time to share your experience and value your feedback. Our team is working hard on improving our system and have already fixed the issues with the currency differences you mentioned. Unfortunately, some use cases connected with integrations with third-party systems, such as Google Calendar require more time to be solved, as they often need to be fixed by our integration partners themselves or depend on the logic of the integration partner. If you do need any further assistance, please feel free to reach out to our customer service team directly. Best regards, Regiondo team
Lara
İtalya dahilindeki Direttrice
Müzeler ve Kuruluşlar, 2-10 Çalışan
Yazılımın kullanım amacı: 2+ yıl
Ecomuseo Argentario
Artılar:
The software is easy to use and it's possibile to embed it in the web site of the organization.
Eksileri:
The Stripe report about the weekly takings is not clear and difficult to check. There's also a lack of some data for the Italian accounting regulations. The combo offer is not flexible: you can't choose which offer book first. You can't delete old ticket categories and the always appear when you add a new reservation.
Daniel
Avusturya dahilindeki Gemeindevertragsbediensteter
Kamu Yönetimi, 11-50 Çalışan
Yazılımın kullanım amacı: 1+ yıl
Flexible Software für alle möglichen Anwendungsgebiete
Yorumlar: Wir haben damit unseren Fahrradverleih digitalisiert, verkaufen Eintrittskarten für Führungen und Veranstaltungen und konnten somit das Personal entlasten. Es zahlt sich jedenfalls aus!
Artılar:
Produkt ist sehr flexibal und kann individell angpasst werden. Wir verkaufen damit Tickets für Führungen, verleihen Fahrräder, verkaufen Eintrittskarten für Veranstaltung aber haben auch schon Bustouren organsiert und Zustiegsstellen online buchbar gemacht.
Eksileri:
Die Einrichtung ist manchmal etwas umständlich aber daran wird gearbeitet.