Microsoft Teams
Microsoft Teams Nedir?
Microsoft Teams is a group chat solution for teams who want a shared workspace and messaging service. Microsoft Teams replaces Skype for Business as the chat-based communication service of choice for
Daha çok oku
Microsoft 365 team collaboration. It's available on iOS, Android and Windows 10 operating systems. Microsoft Teams is an enterprise-grade messaging application that is a collaboration hub for teams. Create new teams to manage projects, and use Microsoft Teams to send messages, make calls and video conference with coworkers. Get real-time updates to keep everyone on task throughout the day.
Daha az oku
Kimler Microsoft Teams Kullanıyor?
Cloud-based solution designed for business communications to help teams manage chat, meet, file sharing, team discussions, and more.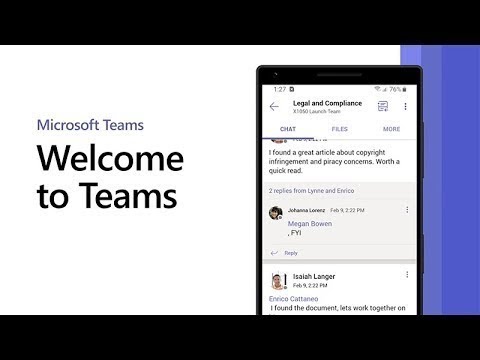 Microsoft Teams uygulaması konusunda emin olamadınız mı? Popüler bir alternatifle karşılaştırın
Ücretsiz sürüm
Ücretsiz deneme
Ücretsiz sürüm
Ücretsiz deneme
Microsoft Teams İçin En İyi Alternatifler
Microsoft Teams için incelemeler
Mirza Abdul Ghafoor
Hindistan dahilindeki Associate Recruitment Specialist
Doğrulanmış LinkedIn Kullanıcısı
Personel ve İşe Alım, 1.001-5.000 Çalışan
Yazılımın kullanım amacı: 1+ yıl
Dikkate Alınan Alternatifler:
Work organisations step up the game with Teams !
Yorumlar: Overall experience is master class ! So many Microsoft apps integrated , accessible from SharePoint one Drive to excel , word documents everything can be opened in teams . Shared in Microsoft teams. !
Artılar:
almost everything about Microsoft team is perfect,easy, simple, fast , quick and advanced , makes life's and work teams work with a energetic spirit and reach hard goals in an easy way!
Eksileri:
Microsoft Teams must be improved on its IOS app , the user interface on ios is too old to fit in an huge iPhone and the buttons and the software must be updated and upgraded on ios , I don't know about android though !
Tom
BK dahilindeki Account Manager
Tüketici Elektroniği, 11-50 Çalışan
Yazılımın kullanım amacı: 2+ yıl
Dikkate Alınan Alternatifler:
Software we use on a daily basis
Yorumlar: For better or for worse I can't imagine us not using Teams.
Artılar:
As we already used Office 365 integration was very easy, we adopted Teams when staff began working from home due to the pandemic - prior to this we were using Skype For Business for instant messaging. It has been essential in ensuring our company operated smoothly since we have adopted a permanent element of home working. It is regularly used for meetings, video calls and screen sharing.
Eksileri:
The app is sometimes quite resource heavy depending on the length of a particular call and the number of participants. When screen sharing you can select a running application from a list but some don't appear in list (Power BI, for example) and you have to share your whole screen. Incoming call behaviour is sometimes odd, a call will ring the mobile app but not on desktop when running at the same time.
simone
İtalya dahilindeki consulente
Yönetim Danışmanlığı, 5.001-10.000 Çalışan
Yazılımın kullanım amacı: 1+ yıl
recensione teams
Yorumlar: strumento di condivisione e chat che ha sostituito skype; buona la chat (permette anche di poter parlare con altri user di altre aziende business); nel corso dei mesi ha subito un incremento di utilizzatori con annesso calo delle prestazioni e blocchi continui
Artılar:
permette di avere una chat con colleghi; permette di creare canali tematici (con relativa profilazione) dove modificare e condividere file
Eksileri:
spesso ha problemi e si blocca soprattutto quando si pianifica un meeting e si inserisce un nuovo link teams; alcune impostazioni di default sono discutibili
Ulises
Meksika dahilindeki Abogado Corporativo
Yiyecek ve İçecek, 5.001-10.000 Çalışan
Yazılımın kullanım amacı: 2+ yıl
Dikkate Alınan Alternatifler:
Mi herramienta indispensable para trabajo colaborativo y remoto
Artılar:
Es la herramienta mejor integrada con los servicios profesionales al ser de Microsoft, es un indispensable para el trabajo colaborativo, tiene más herramientas y más avanzadas que los softwares similares. Creo que no hay mejor para el trabajo remoto, colaborativo, conferencias y seguimiento de proyectos (esto último si se ocupa integrada a un gestor de actividades y proyectos).
Eksileri:
No tiene función de seminario ni la opción de retoque de video
Edith
ABD dahilindeki Sr Manager IT Mergers & Acquisitions
Doğrulanmış LinkedIn Kullanıcısı
Hastane ve Sağlık Hizmetleri, 10.000+ Çalışan
Yazılımın kullanım amacı: 2+ yıl
Easy to use, dependable and easy to train users
Yorumlar: I thoroughly enjoy using TEAMS and was a trial user and driving force to start using it for large projects where collaboration on documents, ideas and every day communication is needed. It is easy to train new users, easy to allow access and limit access.
Artılar:
It is easy to use as a collaboration tool sharing documents, chats and creating a workspace for a project team. The ability to give the team members access to areas/channels needed helps keep Need to Know information where it should be. The easy communication and cross-platform (mobile device) usability makes it easy to use anytime-anywhere.
Eksileri:
I cannot think of anything as a Con. I have used other collaboration and conference call and chat applications but TEAMS has it all and with a remote work force it is integral to our every day work.