Roofr
Roofr Nedir?
Roofr offers accurate roof measurement reports for $15 delivered same day or you can measure it yourself using the free DIY software. Every report includes 6-pages outlining total squares, pitch,
Daha çok oku
edges (including hips, valleys, ridges, flashing, and more). Roofr also allows users to send impressive branded proposals to leads so they can stand out from the competition and sell more jobs. Start for free now and start winning more work!
Daha az oku
Kimler Roofr Kullanıyor?
Roofing Contractors - $15 roof measurement reports delivered same day or use the free DIY software. All reports are accurate and include all details of the roof. No fees. Unlimited users.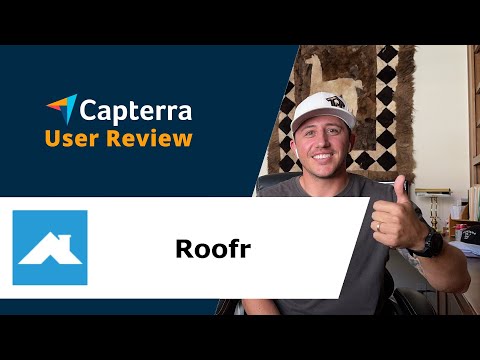 Roofr uygulaması konusunda emin olamadınız mı? Popüler bir alternatifle karşılaştırın
Ücretsiz sürüm
Ücretsiz deneme
Ücretsiz sürüm
Ücretsiz deneme
Roofr İçin En İyi Alternatifler
Stephen
ABD dahilindeki Owner
Doğrulanmış LinkedIn Kullanıcısı
İnşaat, 11-50 Çalışan
Yazılımın kullanım amacı: 1+ yıl
A well-run company with a great staff
Yorumlar: My overall experience with Roofr has been very positive.
Artılar:
The ease of use, timely fashion of reports, and the customer service from the Roofr team. [SENSITIVE CONTENT] specifically, went above and beyond to be transparent and accommodating.
Eksileri:
Compared to other services, there are not many things i did not like.
Nicholas
ABD dahilindeki President
İnşaat, 11-50 Çalışan
Yazılımın kullanım amacı: Ücretsiz Deneme
Dikkate Alınan Alternatifler:
Pleasantly Surprised - Understatement of 2020
Yorumlar: Our business is predicated on the fact that we are precise in every measurement we make, and thus, are able to competitively provide solutions to our clients which are priced according to the market we serve. Without being thorough, replete in our ability to heavily rely upon the technologies which guide our proposal process, we would not maintain the trust we have with our clients. Roofr allows such precision, as it is embedded in their product stem to stern.
Artılar:
We have relied heavily upon a software we've used for years, and until switching to Roofr, never had the need to look elsewhere. A friend of mine whose company also switched to Roofr recommended it to us, and I should be paying him for his recommendation. Not only is Roofr incredibly intuitive technology, it is also patterned in the same fashion as other, much more highly priced technologies, which pale in comparison to what Roofr provides.
Eksileri:
From everything we've seen thus far, I honestly can't recount any cons.
Christopher
ABD dahilindeki Owner
İnşaat, 11-50 Çalışan
Yazılımın kullanım amacı: 2+ yıl
Buyer Beware
Yorumlar: Initially this seemed to be a quick and economical solution to gathering project information. $10 reports were a no brainer and I could easily overlook the obvious misinformation including incorrect pitches, flat out wrong measurements, and a material list so wrong you would loose your entire profit margin. Actually each time I had an issue they were happy to make adjustments, but for $10($now $15) no biggie. Fast forward to large projects: Multifamily/multi building projects, each report is issued as the original address used to find the property with no ability to change the project name or add address for multiple buildings. I do like that they give you a summary report of the project with individual buildings. Almost all of our transactions have been on our Iphone even though they do not have an app and definitely are not optimized for mobile use. Tried to use their other features such as proposals and somehow signed up for a $90 per month plan, that is useless by the way, and immediately tried to get costumer service to cancel it to no avail. Plans started coming back as 2D garbage with no useable information and still charged to our account(one would be understandable, but 20!) Costumer service was not helpful we couldn't call them to speak in person, then they told us Canada was having internet "issues" ( I call BS), finally someone called me but only to walk me through their services and use their product some "DEMO" they constantly shove down your throat.
Artılar:
Price, turnaround time, and convenience. If you want economical "close" measurements of a roof use it, but check the measurement before bidding because you might (and I have) take a bath! FYI Their "proprietary" measurement system is google street view so if there is none you get a crappy useless 2D picture from google earth
Eksileri:
not optimized for mobile use, price increased 50% after we started using it more regularly, costumer service has a coverall approach to every issue (3 free credits), Measurements are regularly incorrect, roof pitches are regularly incorrect (which is a big deal when the difference between 7/12 and 9/12 is $25 per square). Site use is cumbersome and in the end unusable to the vast majority of contractors.
Susan
ABD dahilindeki Owner/Office Manager
İnşaat, 2-10 Çalışan
Yazılımın kullanım amacı: 1-5 ay
Dikkate Alınan Alternatifler:
Easy to use and great price
Yorumlar: Roofr has made estimating easier and faster. Roofr helps cuts down on human error.
Artılar:
Measuring the specific building is so helpful.
Eksileri:
Operator error is pretty easy to log in to the homeowner portion of Roofr rather than the contractor portion.
Miguel
ABD dahilindeki Owner
İnşaat, 2-10 Çalışan
Yazılımın kullanım amacı: 1-5 ay
Dikkate Alınan Alternatifler:
GREAT PRODUCT
Yorumlar: Great. Services are good so far.
Artılar:
Ease of functionality. I like to measure my own roofs and I've used iroofing in the past. This product is free to use for self-measuring and the price for them to measure it for me is super cheap.
Eksileri:
If there was a way to have those satellite images be free that would be great 😅 I get why I would have to pay for it though so as time goes I'm probably going to buy it.