Absorb LMS Nedir?
Absorb LMS empowers businesses across the globe to surpass learning goals. Built to deliver flexible training, the intuitive design and robust features create an engaging learning environment that keeps your employees, customers and partners coming back for more. Serving customers in 120 industry verticals, Absorb LMS offers automation and deep reporting capabilities to save time and prove ROI. Tap the scalable LMS that supports integration and security, while offering 24/7 in-house support.
Kimler Absorb LMS Kullanıyor?
Organizations providing employee training, external training, or both, including e-commerce. We work for organizations with a few hundred learners right through to hundreds of thousands of learners.
Absorb LMS nerede dağıtılabilir?
Bulut tabanlı
Şirket İçi
---
Satıcı hakkında
Absorb
Calgary, Kanada içinde yerleşiktir
2002 yılında kuruldu
Absorb LMS support
Telefon Desteği
7/24 (Canlı yardım)
Sohbet
Bulunduğu ülkeler
Almanya, Amerika Birleşik Devletleri, Arjantin, Avustralya, Avusturya ve 34 adet daha
Satıcı hakkında
Absorb
Calgary, Kanada içinde yerleşiktir
2002 yılında kuruldu
Absorb LMS support
Telefon Desteği
7/24 (Canlı yardım)
Sohbet
Bulunduğu ülkeler
Almanya, Amerika Birleşik Devletleri, Arjantin, Avustralya, Avusturya ve 34 adet daha
Absorb LMS videoları ve resimleri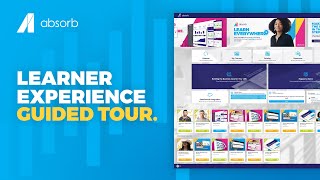 Absorb LMS ile benzer ürünleri karşılaştır
Absorb LMS ürününün özellikleri
Asenkron Öğrenme
Atama Yönetimi
Değerlendirme Yönetimi
Elektronik Formlar
Etkinlik Panosu
Eğitim Yönetimi
Eşzamanlı Öğrenme
Karma Öğrenme
Kendi Kendine Öğrenme
Kullanıcı Yönetimi
Kurs Yazma
Kurs Yönetimi
Kurs İzleme
Mobil Erişim
Mobil Öğrenme
Not Defteri
Oyunlaştırma
Raporlama ve İstatistikler
Raporlama/Analiz
SCORM (Paylaşılabilir İçerik Nesne Referans Modeli) Uyumluluğu
Sanal Sınıf
Self Servis Portal
Self Servis İçerik Kürasyonu
Sertifika Yönetimi
Sertifikasyon ve Lisanslama
Sosyal Öğrenme
Testler/Değerlendirmeler
Uyarılar/Bildirimler
Uyumluluk İzleme
Yerleşik Kurs Yazma
Yetkinlik Yönetimi
Yönlendirme İş Akışı Yönetimi
e-Ticaret Yönetimi
Çalışan El Kitabı
Çalışan Katılımı
Çalışan Portalı
Çok Kullanıcılı İş Birliği
Özelleştirilebilir Markalama
Öğrenme Portalı
Öğrenme Yolları
Öğrenme Yönetimi
Üçüncü Taraf Entegrasyonlar
İlerleme Raporları
İlerleme İzleme
İçerik Kitaplığı
İçerik Paylaşımı
İçerik Yönetimi
Absorb LMS İçin En İyi Alternatifler
Absorb LMS için incelemeler
Nicolas
ABD dahilindeki Financial Analyst
Doğrulanmış LinkedIn Kullanıcısı
Mali Hizmetler, 201-500 Çalışan
Yazılımın kullanım amacı: 1+ yıl
Flexible and very complete LMS
Artılar:
It stands out for its simplicity of use and its pleasant user interface. It offers great flexibility in the design of learning experiences, adapting them to the characteristics of each training process. It has an electronic signature so that participants can demonstrate that they met the requirements of their training process. Integrates seamlessly with any eLearning content library.
Eksileri:
I consider that this is a platform with a lot of potential, the only thing that I think can be improved is to simplify some processes to make the configuration easier.
Stefan
Kanada dahilindeki Manager, Knowledge Management
Bilgisayar Yazılımı, 201-500 Çalışan
Yazılımın kullanım amacı: 1-5 ay
Dikkate Alınan Alternatifler:
Easy to use LMS platform with the right amount of features for our needs
Yorumlar: We were looking for an LMS platform for internal training that could be expanded to customer training afterwards. The sales engagement with Absorb LMS has been a great experience, providing us with the tools and knowledge to properly evaluate the platform (including a trial portal which we could test with our own content). Onboarding was well structured, with a clear plan of tasks to accomplish both on our side and on the vendor side. Absorb provides a series of well-made self-training modules to go through, which complemented the training provided by the implementation project manager. Compared to other LMS, the platform itself is easy to use while providing a good breadth of features for our use. It's a mature product, with a solid backend. We did not experience any performance issues or security concerns. Look and feel customization is relatively basic. The interface is also quite rigid: for example, thumbnails or banners must have precise dimensions, otherwise images are stretched. Because of that it requires a lot of efforts, trials and errors, if you want to have a visual experience distinct from the Absorb default. The main shortcoming we experienced is that some common workflows could be streamlined. They can involve a lot of clicks, which is irritating when you're repeating the same workflow several times in a row. Keyboard shortcuts could be introduced to facilitate some operations, which would alleviate this.
Artılar:
Easy to use Solid onboarding training for admins Provides content hosting Supports SCORM and xAPI (Tin Can) Supports Instructor Led Classes Zoom integration BambooHR integration Salesforce integration Overall mature platform Great customer support
Eksileri:
Look and feel customization lacks flexibility Some workflows could be streamlined, especially for course management No actual course authoring functionality: users need to import learning objects created with external tools, such as 3rd party eLearning authoring tools. This is fine for our needs, but it would add flexibility if there was at least some content authoring functionalities.
Leonard
ABD dahilindeki Business Analyst
Doğrulanmış LinkedIn Kullanıcısı
Mali Hizmetler, 501-1.000 Çalışan
Yazılımın kullanım amacı: 1+ yıl
Easy to use and highly customizable LMS
Yorumlar: In an organization where the employee training process is very significant, it is necessary to have a robust tool that facilitates the planning and execution of staff professional improvement courses. This platform offers a very versatile set of tools.
Artılar:
I really like that navigating through its functions is very easy. It allows you to design a personalized, interactive and very flexible learning experience. The tracking of participants' progress is very effective and offers very complete reports that provide detailed information for the improvement of the following courses. The electronic signature helps to confirm the fulfillment of the different training stages that are planned.
Eksileri:
I would like to see more integration options to strengthen corporate learning paths.
Doğrulanmış Yorumcu
İrlanda dahilindeki HR Manager
Doğrulanmış LinkedIn Kullanıcısı
İnşaat, 1.001-5.000 Çalışan
Yazılımın kullanım amacı: 6-12 ay
Great Software, Suffers terribly from its customer service.
Yorumlar: I rushed into this purchase a little and didnt investigate the level of support that would be offered. In hindsight this would have been a game changer for me as I would have went elsewhere.
The software is good, though it doesnt manage blended learning easily which is frustrating.
Customer Support is absolutely non existent.
Artılar:
Good User Interface, Good Course Management. Good sync with BambooHR on most things. Good Learner interface. Good Customisation options.
Eksileri:
Difficult to manage blended learning. Some factors in course management could use improvements. (Managing assessments) Cannot see how many absences from courses that users have. Some issues with how it syncs with Bamboo(overwriting course information) Customer Support is non existent. 10+ days to resolve any issues. Most issues I have to try and resolve myself by resetting and that causes me other issue. Can sometimes be 'buggy' and will introduce random bugs which can be time consuming to fix and result in me resetting the system sync.
Mark
ABD dahilindeki Training Program Manager
Petrol ve Enerji, 201-500 Çalışan
Yazılımın kullanım amacı: 2+ yıl
Dikkate Alınan Alternatifler:
Making My Life Easier
Yorumlar: My overall experience has been great. The LMS has allowed me to build an entire corporate training program while simultaneously building the LMS to support it. The time-based credential reporting and compliance tracking has allowed to avoid those possible awkward moments with clients' specific training requirements. With this tracking and reporting, we're also able to respond to a client's immediate need by knowing who is qualified and current on a given access or occupational training requirement.
Artılar:
The Absorb LMS is easily customizable and Admin/Learner user-friendly. This allowed me to expand my Training effort and capabilities with not only scope but greater efficiencies in that I can customize the LMS to meet the varying needs of my different stakeholders.
Eksileri:
If there is a negative, it is in the format of the Training Transcript when printed, or exported as an electronic file. The courses appear in alphabetical order without the ability to filter for a time period, or sort chronologically. This frustrates Supervisors who then have to review the entire transcript to find what training an employee has completed in the last year. I understand the Transcript are being reworked by Absorb for 2022, so this may become a non-issue.